Window cleaning in Bonnington, Edinburgh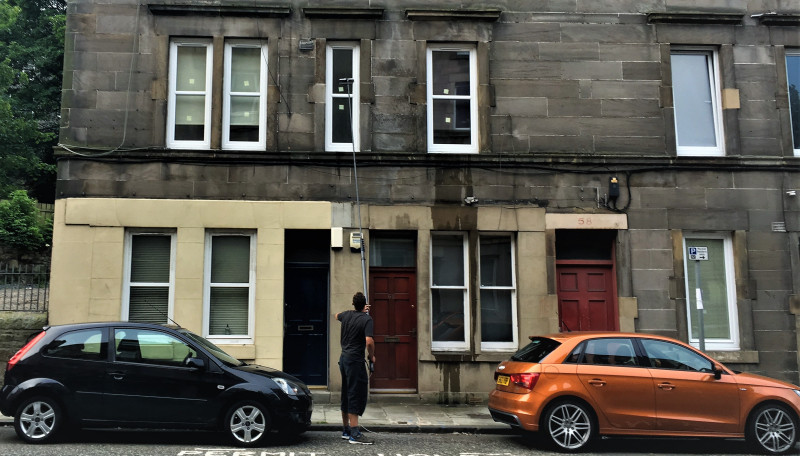 It's worth talking about the smaller jobs EdinburghClean.co.uk can do!
EdinburghClean.co.uk recently undertook a job in the Broughton Road and Bonnington area of Edinburgh. That's nothing out of the ordinary you might think but the property was on a busy road where parking is difficult at the best of times so access to the building was a challenge.
At EdinurghClearn.co.uk we had to think "outside of the box" in order to be able to provide the required window cleaning service! We decided that an early morning start was essential in order to avoid the heavy traffic that builds up later in the day. As a result we arrived at the address at 6:15am and were able to easily find a parking space. Obviously we wouldn't expect the client to be there at that time so we made arrangements for them to put paper markers on each frame that they wanted to be cleaned. Windows cleaned, no problem!
EdinburghClean.co.uk can accommodate all your requirements; we can work around the location and the time to ensure we get the job done! Even better, you don't have to be present, which as was the case with the job mentioned above, didn't mean an early start for the client.
EdinburghClean.co.uk also has a range of convenient payment options, pre-planning and street facing windows only to be cleaned. Depending on the individual window cleaning requirements we may at times need you to be available, for example most properties have windows at the back of the building so we could need some help with access to these via the stair well or other access point.
The case study mentioned above illustrates the fact that EdinburghClean.co.uk can almost always overcome any challenging or awkward access situations that Edinburgh City Centre can throw at us.
Could an early morning service be of use to you? Visit the Contact Page and give us a challenge!
« Window cleaning testimonial – Marchmont | Moth Damage – Edinburgh City Centre »